Interior Box Packaging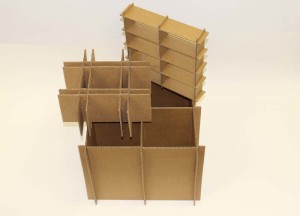 Our products are a form of interior box packaging. There are many types of packaging that fit this description. So what sets our products apart from the rest? For starters our products are made from 100% recyclable materials and are recyclable themselves. Chipboard partitions are a very cost effective alternative to other types of similar interior box packaging. It is very possible that you are currently using another type of material that is far more expensive to protect your products. We provide custom box partition solutions that can protect just about any product that you are currently shipping. Corrugated partitions are available for projects that require a bit more protection due to their weight and or height. In addition to our chipboard and corrugated partitions we also provide SBS Partitions. SBS stands for Solid Bleach Sulfite and is a type of board that is very similar to chipboard except it is white in color and has many different finishes to meet the needs of pharmaceutical companies, cosmetic companies and the food industry. SBS box partitions are a great form of interior box packaging for jobs that require packaging that is pleasing to the eye, but yet still more affordable than most other packaging choices.
We also provide custom cut sheets and layer pads. We stock a large variety of different boards and are prepared at all times to cut layer pads or sheets to the size that you require. Customers have many uses for chipboard or corrugated sheets and layer pads. They can be used as slip sheets to line the bottom of a pallet before stacking your product on it, providing protection from damaged pallets that may otherwise pierce the bottom of the cartons. Layer pads can be used to line the bottom of a box before placing your product in and also to top off the box before closing it. They are often used together with box partitions to create multiple layers of products in a single box.
In addition, General Partition Company also manufactures interior box packaging in the form of die cut packaging solutions, such as folding cartons, corner cut layer pads, custom hole punched solutions and more. All die cuts are made with the same environmentally friendly materials as our partitions.
Whatever your packaging need is we have the products to fulfill it!