Our Relationship with Packaging Distribution Companies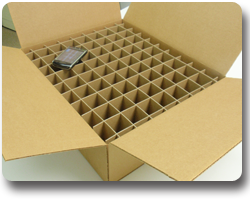 Are you wondering how to protect the products or items that you're planning to ship? We, at General Partition Company, Inc., have the solution! We provide high-quality box partitions and box dividers to almost any industry. These cost-friendly products prevent items from getting damaged during shipping. We sell our corrugated and chipboard partitions to everyone from pharmaceutical companies to breweries and everything in-between. One of the industries that have our utmost respect is the packaging industry. This is not only because we are a part of it, but also because a significant portion of our customers are packaging distributors.
Why do we value our packaging distributors?
We value our packaging distributors because they are out in the manufacturing world every day searching for new business possibilities and trying to provide the best packaging solutions for their customers. Our box partitions are the solution in many cases! We have been building strong and lasting relationships with packaging distributors for over 50 years now.
How do we build and maintain relationships with packaging distributor companies?
We respect and protect our distributors because we understand how valuable it is to have them out there selling our box partitions. When a packaging distributor brings us a project, we handle it as we would with any other customer. We analyze the product, determine the type of chipboard, SBS, or corrugated board that is best suited for the project, and make a sample box partition for it. When we receive an order for a box divider or chipboard layer pad from a distributor, we protect that business. We never try to go directly to the customer, and our system will alert us if we receive a quote request for the same partition, so we can contact the packaging distributor immediately to tell them the customer is looking for quotes. We will also let the customer know that we already make the product and cannot quote them because it is unethical.
We have lasting relationships with some of the best packaging distribution companies in the business, and we plan to continue solidifying those relationships, as well as building new partnerships with other packaging companies. We are incredibly grateful for these customers because they have helped us provide our box partitions to businesses all over the country!