Buy Box Partitions from General Partition Co.
General Partition Company has been in the business of meeting customer needs for all types of chipboard and SBS partitions and layer pads for the last 50 years. Partitions are also sometimes referred to as dividers or separators and are used to protect products of all types from damage during shipping. As premium manufacturers of box partitions we operate with maximum manufacturing flexibility, from meeting your current box or parts configurations, to engineering new designs to fit your future needs. Our engineers are always available for consultation, please contact us and we will be happy to review you're your current interior box packaging needs.
CHIPBOARD BOX PARTITIONS FOR SHIPPING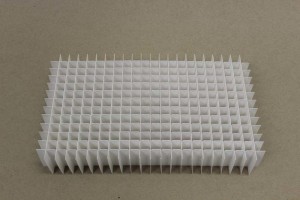 Protecting your products during shipping is something we take very seriously at General Partition Company. Chipboard partitions are a highly effective cost friendly alternative to other styles of interior box packaging. We are fortunate to have enough warehouse space to stock many different calibers (thickness) of chipboard, as well as different finishes such as regular, polycoated, smooth and more. Rest assured that we have the right board solution for your needs. We have had much success helping customers save money by using chipboard in place of more expensive and sometimes unnecessary corrugated partitions or other types of shipping materials. We have packed everything from fragile glass to heavy metals in custom chipboard dividers and they have all survived the rigorous shipping process.
Box Dividers for Shipping
SBS box dividers sometimes called SBS box separators are partitions made from a board called SBS (Solid Bleach Sulfite). They are often used with pharmaceutical, medical and food products. SBS box dividers are white in color and come in a variety of finishes such as polycoated one side, polycoated two side, milkboard, clay coated and more.  SBS box seperators look very nice due to the white color and shiny finishes. If you want to buy partitions that look amazing and still provide great protection SBS partitions are a wonderful choice.
General Partition Company also offers custom cut layer pads and sheets. Layer pads are often used in conjunction with partitions. They are used to create multiple layers of partitions in a box by placing the layer pad on top of the partition and then adding another partition and so on. They are also used to place on the bottom of the box to create a level surface, and also can be used to top off box partitions before closing the box, adding a layer of protection from damage that can occur while using a box cutter to open the box.
Space efficient
Economical
Storage Efficient
Flexible Design Options
Substantial Freight Savings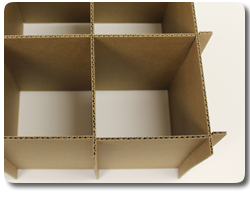 Strength
Maximum Product Protection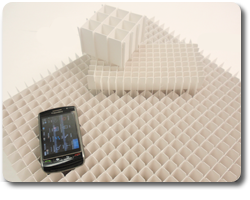 Protective Product Coating
Storage Efficient
Space Efficient
Flexible Design Options